We are excited to announce that we have partnered with TOP Group, a  Ho Chi Minh City-based creative solution company to provide end-to-end digital marketing solutions to our clients. This is a huge step toward creating new opportunities for businesses and allowing brands to benefit from merging the Impact of Creative with the Power of data & technology.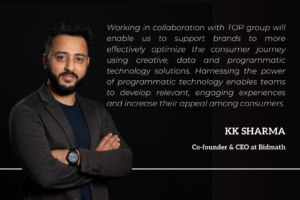 Bidmath and TOP Group intend to work closely on the new initiative, leveraging each other's strengths in their respective field. In order to deliver comprehensive digital marketing solutions, Bidmath will offer end-to-end digital marketing solutions, primarily through its programmatic buying approach led by Data & Technology. TOP Group will utilize its broad knowledge of offline events and social activities in the interim to create more incisive, managed, and evaluable campaigns. This partnership is expected to produce better outcomes for the brands.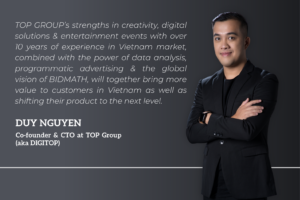 One of the key trends in programmatic advertising in 2022 for both businesses and advertisers will be spending more on the user experience. It's crucial to keep up with the most recent trends and behaviors since user demands change over time.
Marketers currently need to pay special attention to how users are exposed to their adverts. This is just one of the many things we hope to accomplish by working with the TOP group.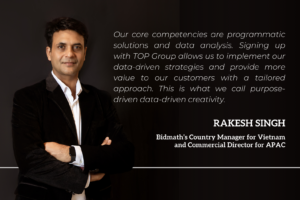 About TOP Group
TOP Group, founded in 2013, is a technology-driven Innovative Solutions Company based in Ho Chi Minh City. They specialize in producing promotional products and marketing campaigns and have a production team that is highly creative, enthusiastic, and skilled. TOP Group was also the first company to produce hundreds of AR Facebook Filters for many brands, such as Samsung, Pepsi, TEA+,…and was featured at the 2018 Facebook iD8 Event as the success case studies. From 2019 to the present, TOP Group has been Cambodia Angkor Air's technology partner. They also participated in the "Bừng Hứng Khởi Việt Nam" campaign which won Coca-cola Vietnam "Brand of The Year" award at MMA Smarties Awards 2018, and also received gold and bronze MMA Smarties Awards for their REVIVE "Beat the Heat" Campaign in the next year, 2019.
Furthermore, TOP Group has qualified to be selected as a Facebook development partner, and they are now an official member of the Facebook Development Partnership APAC.  For more information about TOP Group visit https://www.wearetopgroup.com/.
About Bidmath 
Bidmath is a global transparent digital and technology partner. Founded in 2012 under the umbrella of Enora Media Holding, headquartered in Amsterdam with offices in London, Bangkok, Hong Kong, Tokyo, Ho Chi Minh City & Hyderabad. Bidmath offers end to end data-driven media solutions for global brands and is a Certified Google Marketing Platform Partner. 
As leaders in their respective fields, we believe that this collaboration will create new opportunities and make it easier for brands to access both services in one location. "Data-driven creativity with a purpose."