The Rise of South- East eCommerce Marketplace 
The e-commerce market in Southeast Asia is rapidly expanding as more consumers shift towards online shopping for convenience and safety. Recent research shows that the Asian eCommerce business will grow at a 9.5% compound annual growth rate and reach $1.89 trillion USD by 2023. By 2025, the region is projected to have over 400 million eCommerce consumers. Major players in the market include Lazada and Shopee, where millions of Southeast Asian consumers begin their shopping journeys. Lazada and Shopee is the go-to search engine for many consumers, and this shift in behavior has transformed the eCommerce marketplace into a significant search engine.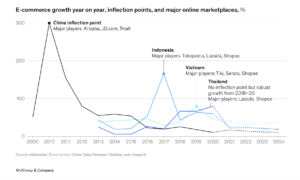 Experts have identified Thailand, Vietnam, Malaysia, Indonesia, and the Philippines as emerging markets, with Indonesia forecasted to account for over 50 percent of Southeast Asia's eCommerce market by 2025. This is likely due to a growing middle class and increased internet access.
Categories that are expected to grow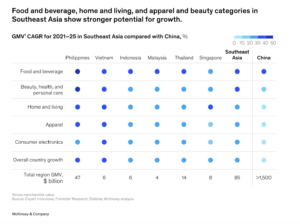 Customers will probably expand their digital purchases beyond clothes and low-end consumer electronics as they become more accustomed to doing their shopping online. Although category penetration is expected to expand across the field, food and beverage, cosmetic items, and home and lifestyle goods are expected to see the fastest growth.  To support the growth of items in some of these product categories, specialized logistical services would be essential.
Ad Solutions offered by Lazada and Shopee for eCommerce 
Lazada and Shopee offer self-serve advertising platforms where businesses can create and manage their advertising campaigns on the respective platforms. These platforms use a cost-per-click (CPC) model, and businesses can target their ads to specific audiences based on demographics, interests, location, and behavior. They can track the performance of their ads and adjust their advertising strategy accordingly. 
Lazada's advertising services include sponsored product listings, sponsored brands, Lazada affiliate program, Lazada live, Lazada sponsored display, and Lazada in-app advertising. Meanwhile, Shopee offers search ads, discovery ads, boost ads, Shopee mall brand ads and Shopee Affiliate Marketing Solutions(AMS).
Businesses can choose from a variety of advertising formats depending on their needs and budget, making it an effective way to increase brand visibility and attract potential customers in Southeast Asia's expanding eCommerce market.
Google Ads with Shopee
Shopee has partnered with Google to integrate Google Ads with Shopee in order to assist eCommerce brands in driving online sales.
Brands on Shopee will gain access to specialized marketing tools to increase online visibility, build deeper engagements, and manage campaigns more flexibly.
Facebook Ads with Shopee
Shopee's Seller Center also includes a Facebook Advertising tool for sellers in Indonesia, Malaysia, the Philippines, Singapore, Taiwan, Thailand, and Vietnam. Facebook Advertising displays your products to shoppers who are more likely to be interested in them based on their interests. This can help you reach customers outside of the Shopee community and drive more shoppers to your shop.
When a customer sees your Facebook Ads while scrolling through their social media feed, they may click on it to view your product page and make a purchase on the Shopee website (on desktop) or the Shopee App (on mobile).
With the adoption of Facebook Shops, Instagram Shop-able Advertising, advertising on Lazada and Shopee, with the end-to-end marketing solutions, it is no longer necessary to fragment the customer journey across many ecosystems. Within a single ecosystem, it is able to do everything from brand promotion and upper-funnel awareness to purchase and repurchase communication. Nevertheless, simply putting up the stores and running advertisements will not help with the rise; you must also regularly monitor and refine your campaigns for a better Return-on-investment. Contact Bidmath to learn more about how to optimize your campaigns and increase your eCommerce revenues.
Bidmath is an award-winning, data-driven digital media and analytics agency built for the future. Powered by machine learning and real-time personalization, we deliver data-driven marketing for global brands. If you would like our experts to assess your business opportunities, get in touch with us today – sales@bidmath.com.