Ecommerce has been a competitive market where entrepreneurs and sellers compete to get their products noticed. Lazada and Shopee are two of the most widely used Ecommerce platforms in Thailand and Vietnam. They have made it easier for sellers to open their own virtual stores, but this also means more competition for everyone. The key to E-commerce success on Lazada and Shopee is to optimize your product listings on these platforms so that your customers can find you easily.
How to Increase Ecommerce Profitability?
To increase your ecommerce profitability, all you need to do is focus on things that can guide and prioritize your actions. The strategy is to have more visitors at your online store, but it's important to attract people who are keenly interested in buying what you're selling. Therefore, before diving into any traffic strategies, you need to know your audience, study your existing buyers and have a clear understanding of who you're targeting. It goes without saying that having more visitors at your Shopify site or online store at marketplaces like Lazada and Shopee will result in more sales. With more customer data and insights, the better you would be able to craft your marketing strategies and reach highly-qualified leads. Once you have your persona down, here are 5 effective Ecommerce marketing optimizations you can do that will drive traffic to your online store.
Keyword research
By leveraging keywords to drive organic traffic to your business, you may use the marketplace's traffic to draw in ready buyers; but, this process takes time. On the other hand, if you have a ready budget and are looking for quick results, paid ads on marketplaces like Shopee or Lazada might be a better choice for your company. This will lead to increase in product visibility on Lazada and Shopee marketplaces and in turn increase your sales.
Use Non-Marketplace Paid Traffic for Brand Awareness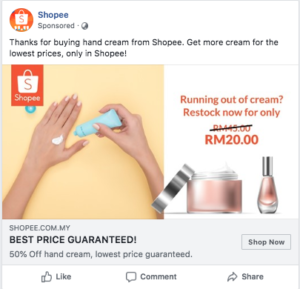 Besides marketplaces, advertising on 2 important sources of traffic: Facebook and Google can also provide Ecommerce businesses with a great return on their marketing investment. Creating ads on platforms like Facebook, or Google Display and Video can be helpful in establishing your Ecommerce store brand while acquiring new customers.
Different from organic content marketing which can take months to see results, a well-structured Ad Campaign can start to bring in quality traffic immediately. With Facebook marketing, having a good understanding of setting up a consolidated ad account structure with ad sets picking up new visitors while another retargets to close the sale will be an evergreen source of traffic. Additionally, using Facebook Custom and Lookalike Audiences feature can be helpful in targeting your competitors' audiences and also to reach new potential customer segments.
Participate in Marketplace Campaigns and Utilize Tools for More Sales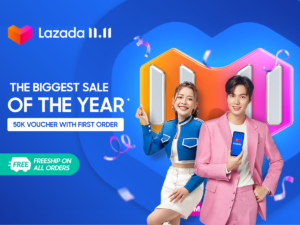 Sales promotions on online marketplaces is a simple yet effective way to boost visibility for your online store to reach buyers who have their wallets out and ready. Marketplace campaigns can be differentiated into the Super Campaigns like 11.11 Sales to the monthly campaigns like 3.3, 5.5, 6.6, Payday sales to the custom daily sales and event category specific campaigns as well. One thing to be mindful of is to have a guideline setup for discounts and promotions for joining these events. This is where you need to be able to manage variable costs, which can bring tremendous impact on your profitability. In addition, there are 2 free tools to use such as Boost selected products for additional visibility on Shopee and Seller picks for Lazada. These are limited in nature, so choose your top-selling products to give your products an edge over the competition.
Conversion Rates (CR): Increasing Likelihood of Purchase
Conversion rates can make or break any advertising campaigns. You can have the highest volume of traffic, but if no one buys from your store, it would be useless. Your online store or website conversion rate decides your return-of-investment (ROI) and directly determines your profitability. To calculate, you can just take the percentage of your website visitors that make a purchase as compared to the total number of visitors. Having a good conversion rate not only means saving your money and efforts, but it will also help you get better insights on what your audiences are looking for which will allow you to create a better product that meets your customer goals. Now that you have the ways to boost your traffic, here are some quick tips to optimize your conversion rate.
Reviews:  Customer reviews on the internet can strongly influence customers' decision to purchase, so make sure to highlight your customer testimonials in your website and always encourage your buyers to leave a review after their purchase.
Content: Content can help with conversion as much as traffic acquisition. Take for instance, content like real-life usage videos, store designs, and well-structured product listing pages can help evoke your audience's emotions and get them to take action.
Creativity: There are lots of details to consider when designing your sales page or an online ad, and this is where creativity and A/B testing is important. It lets you stand out among the crowd while using data to find out which version has better conversion.
User Experience:  Good user experience is critical to any business. Confusing design experience can frustrate users and cause them to drop out from the buying process. So make sure your audiences encounter as few obstacles as possible on their way to purchase to boost higher conversion.
Ads Optimization: Ad optimization is about creating ads that can catch your target audience's attention. By optimizing your ads to increase its click-through rates (CTR), this can in turn lower your overall ad campaigns' cost-per-click (CPC). Additionally, we also optimize various targeting options for our clients to get the best ROI, these would be location specific targeting, Gender, age, behavior and Interests categories.

eCommerce SEO is an absolute must on the internet. Learn the fundamentals and create your reputation with the algorithm to thrive in such a competitive environment. Employ the optimization tactics listed above to increase the number of clicks and sales to your online store. You can always engage an expert to do this for you. Bidmath is an award-winning, data-driven digital media and analytics agency built for the future. Powered by machine learning and real-time personalization, we deliver data-driven marketing for global brands. If you have an eCommerce store and would like our experts to assess your business opportunities, get in touch with us today – sales@bidmath.com.