In recent years, Asia's e-commerce market has become highly competitive, and small businesses looking to succeed in this market must have a robust strategy. The region's e-commerce market is experiencing exponential growth, and by 2025, it is expected to reach $1.12 trillion. As of now, there are 70 million MSMEs in Asia, accounting for between 97.2% – 99.9% of total establishments in Asia.
Therefore, small businesses must leverage this opportunity to grow and expand. With e-commerce sales growing by the year and one in four small businesses still lacking an online store, there is a prime opportunity for entrepreneurs to gain a competitive edge and expand their businesses online.
How Trends Shape the E-commerce Experience
In the e-commerce industry, businesses are focusing on improving their long-term success by building a stronger relationship with their customers. Many smaller e-commerce brands are moving away from the fast and impersonal transactions of consumer goods, and instead attempting to create a personalized shopping experience for their buyers. By restructuring their online shopping model, e-commerce enterprises hope to secure a solid customer base and improve their chances of sustainability. This personalized approach to e-commerce will allow customers to feel valued and understood, resulting in higher customer retention and loyalty. This 2023 and beyond, businesses should remain proactive in keeping updated with the latest industry trends by pursuing potential investment opportunities.
Benefits of using Marketplace for Small businesses
Social marketplaces can be an effective way for small businesses to increase their sales and reach a wider audience. There are some benefits of utilizing a marketplace which can increase your product visibility, provide access to new customers, cost- effectiveness, increased trust by consumers and also it reduces the marketing expenses since most of the marketplace comes with various built- in tools that you can use to target audience without having to invest in expensive marketing campaigns.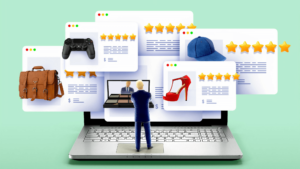 Here are some factors you should consider before starting a store on any e-commerce marketplace
The type of products that you intend to sell
The type of products that a business intends to sell depends on various factors, such as the target market, industry trends, consumer demand, and the company's unique selling proposition (USP). A brand may choose to sell physical products, digital products, or a combination of both. Conducting market research is an important step for any business to determine the type of products they should sell and which marketplace would be the most appropriate to sell them.
Traffic on those channels
It comes as no surprise that two of the most popular marketplaces have ever-growing scales of online presence. Marketplaces like Shopee and Lazada have created images that people trust. The millions of audience they have collated help your online business to get noticed. You can never really get so much attention when you are starting out by yourself. So, it is good to have a little push.
Their customer base should be ever growing
Lazada and Shopee attract an increasing number of new customers each year through various marketing methods such as birthday discounts and holiday promotions. These new clients may not have deliberately sought out your store. They may, however, look for a product that you have actually listed. Once you've caught their attention, you may turn them into loyal customers by delivering outstanding service and product satisfaction.
Logistics is a critical component of any online marketplace, as it directly impacts customer experience and satisfaction. A strong logistics network ensures timely and efficient delivery of products to customers, which is essential for building trust and loyalty. Without a reliable logistics system in place, customers may experience delays, damaged products, or lost packages, leading to frustration and negative reviews.
Flexibility of Account creation
The decision to open a single account on Shopee or multiple staff accounts on Lazada ultimately depends on the seller's needs and preferences. Shopee is designed to work well for individual sellers who prefer to manage their online store independently. It offers a simple and user-friendly interface that allows sellers to easily create and manage their products, orders, and customer inquiries from a single account.
In contrast, Lazada's multi-account feature allows sellers to assign specific roles and responsibilities to different team members, such as product listing, order fulfillment, and customer service. This can be beneficial for larger businesses that require a more complex and organized system for managing their online store operations.
The marketplace commissions fee structure
Some marketplace commission fee structures may charge a higher percentage commission fee but offer additional services such as advertising, shipping, and customer service support, which can be beneficial for small or new businesses that need help getting started. On the other hand, other marketplaces may charge a lower commission fee but offer fewer additional services, which may be suitable for more established businesses with their own marketing and logistics resources.
Optimizing your E-commerce shop
To maximize the potential of your product listings and ads, it's essential to ensure they are clear, visually appealing, and optimized for your target audience. Use high-quality images and provide detailed descriptions, including size, material, and unique features. Additionally, consider optimizing your ads for demographics such as age, gender, and location. For more information on how to optimize your ads for maximum effectiveness, check out our article here.
Analyze your results- To make informed decisions about your product offerings and marketing strategies, it's crucial to analyze your sales data. Tracking your sales and analyzing your data can help you identify which products are performing well and which ones are not. With this information, you can make adjustments to your product offerings and marketing strategies to optimize your business performance. So, ensure you regularly analyze your results and use the insights to improve your overall strategy.
In conclusion, social marketplaces can provide small businesses with an excellent opportunity to increase their online presence, reach new audiences, and grow their sales. When choosing a platform, businesses should consider factors such as the type of products they intend to sell, the platform's traffic, logistics, account creation flexibility, and commission fee structures. Once a business has selected a platform, it is crucial to optimize product listings and ads and analyze sales data to identify opportunities for improvement.
At Bidmath, we understand the importance of staying ahead of industry trends and leveraging the latest technologies to help businesses succeed in the ever-evolving e-commerce market. We encourage small businesses to consider utilizing social marketplaces as part of their e-commerce strategy, and we are here to provide support and guidance to help them achieve their goals. Contact us today to learn more about how Bidmath can help your small businesses succeed in Asia and thrive in the world of e-commerce.