ONLY 3 DAYS LEFT!
We cordially invite you to Bidmath, Vietnam's "Thursday Social Santé" networking and panel discussion event on November 17th at Sonatus, The Sentry in Ho Chi Minh City. Click here to register before the seats run out!
The event will begin with two short panel discussions. 
Panel 1's topic will be "Data-driven Best Practices in E-Commerce," with industry experts from L'Oréal, TikTok, Shoppe, and Younet participating. The second panel will discuss the "Power of Gen-Z in the Attention Economy," with experts from Kantar, Ampverse, Momo-M, and Provence participating. [Photo below]
Panel -1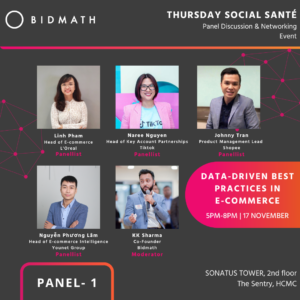 Panel 2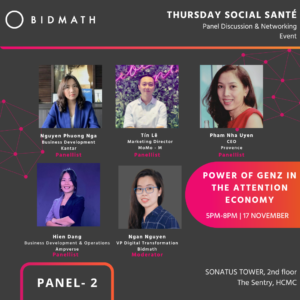 Ms. Nga Nguyễn has more than 14 – years of experience working  in consumer and shopper insights, business development, project management, and consulting. In her current role, Nga is leading Business Development and Advanced Solutions of Kantar, Worldpanel division by helping clients gain competitive advantages and drive successful decisions, through providing Asian & Vietnamese shopper and consumer insights, actionable business ideas and a valuable business partnership.
Mr. Tin Le is the Marketing Director at MoMo – M_Service Online Mobile Service Joint Stock Company. He is the marketing advocate with passion for inspiring and changing consumer behaviors via brand building activities and strategy. He has been pursuing his passion in the payment/ fintech industries with MoMo and Visa and in FMCG with the Coca-Cola Company, and other beverage brands.
Pham Nha Uyen has broad and intensive experience in business management and brand marketing over the last 22 years. Currently, she is the CEO of Prôvence Consumer Products Corporation, specializing in beauty and personal care products. Along with professional development, she has been the managing partner of Young Marketer, a non-commercial, social platform to inspire, search for, and build the future purposeful marketing leaders in Vietnam and beyond, since 2013.
 Ms. Hong Tran is currently taking care of operations and business at Ampverse Vietnam. After 13 years of living and working abroad, from Samsung Electronics in South Korea to the technology scene in Berlin, Hong returned to Vietnam and became interested in the business scene here as well as in South East Asia. The people it touches are the strong motivation for the team to establish a sustainable and healthy business in eSports—that is, the dreams and careers of young gamers, the spirit of daring to be different to be themselves of the young generation.
We look forward to seeing you. Register here
#bidmath #datadrivenmarketing #generationz #ecommerce #vietnam #digitalmarketing #bidmathsocialsante