Last week, Bidmath hosted one of the few networking events, "Thursday Social Sante," in the Sonatus tower in Ho Chi Minh City, Vietnam. The event began with two panel discussions with knowledgeable speakers from L'Oreal,  Shopee, Tiktok, Younet, Momo, Kantar, Ampverse, and Digi Pencil. The event brought together publishers, brands, agency partners, and technology partners to network, exchange information, and discuss the latest trends in marketing and the broader ecosystem.
The first panel, which lasted 30 minutes, discussed "Data-driven best practices in E-Commerce." A diverse group of global leaders (pictured below) debated and openly expressed their views in front of an active audience. The topics addressed many elements of the topic, providing numerous viewpoints from industry professionals.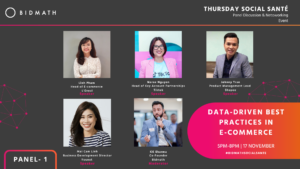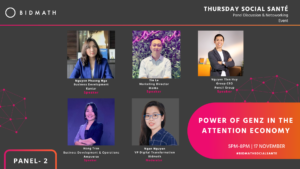 "It was remarkable to see the response and positive energy from attendees as they took away  a wealth of useful  insights  and  learnings  from the group of panelists comprising industry leaders & experts who shared their perspectives and best practices in E-commerce and strategies to connect effectively with  Gen-Zs in  the new attention economy.  Bidmath is committed to leading  growth with its Data led Digital marketing solutions   driven by AI / ML algorithms and innovative solutions to  provide e-commerce, programmatic, performance marketing solutions besides E2E digital marketing solutions. "
-Rakesh Singh, Country Manager, Vietnam and Commercial Director, APAC
The event had more attendees than expected, and among them were many experts from a range of businesses, including Takashimaya Vietnam, Mega We Care, Shinhan Bank, Shopee, Kantar, and P&G. These experts contributed to the discussion and sparked questions about how to leverage data to target the right audience for campaigns and increase sales.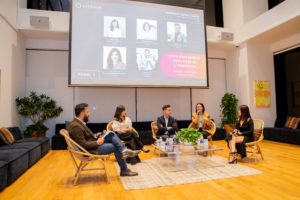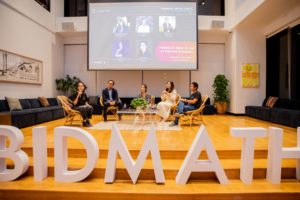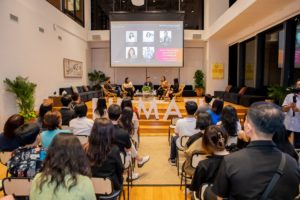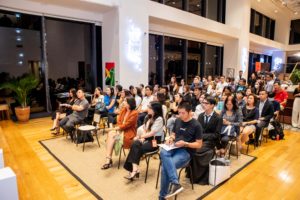 A variety of Vietnam based industry professionals joined the second debate and touched on key topics  around the "The Power of Gen Z & Millennials in the New Attention Economy".
Overall the event was a huge success with attendants from all over the city. 
As Vietnam Continues to grow in the Advertising world and become a key driving force within South East Asia there will be a further focus on this market and no doubt more events to come in this year as brands view the importance and want to understand how to navigate the ecosystem in an efficient, transparent way.
Founded in 2012, we are headquartered in Amsterdam with offices in Bangkok, Ho Chi Minh City, Bengaluru & Tokyo. We empower global brands to take control of Data and AI / ML led Integrated digital marketing solutions and spearheading Ecommerce &   programmatic solutions  through transparency & leverage our machine learning approach to unlock a new future in digital media advertising.